Информация

для беженцев из Украины в Литву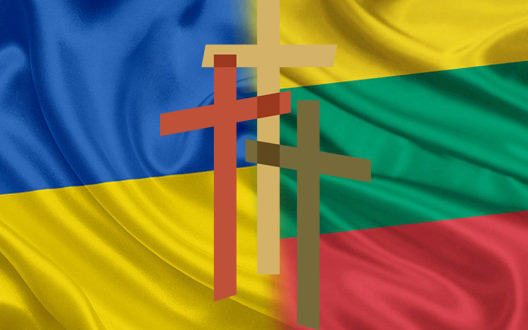 Дорогие братья и сестры, беженцы из Украины,
Сообщаем вам, что в колл-центре Департамента Mиграции установлена отдельная горячая линия, по которой будут консультировать украинцев, бегущих от войны в своей стране в Литву.
Консультации по тел. +370 5 271 7112 доступны каждый рабочий день и выходные с 07:30 до 21:00.
Информация для граждан Украины
https://migracija.lrv.lt/lt/naudinga-informacija/ukraina-ukrayina-ukraina-ukraine/informatsiia-dlia-grazhdan-ukrainy-1
РЕГИСТРАЦИЯ:
- если вам негде остановиться после приезда в Литву, необходимо немедленно прибыть в один из регистрационных центров:
- Alytus, Pramonės 1B
- Marijampolė, Parko g. 9
- Vilnius, Minties g. 3
- Kaunas, Vytauto pr. 79
- Klaipėda, Paryžiaus Komunos g. 16A
- Šiauliai, J. Jablonskio g. 16
В центре регистрации людей зарегистрируют, накормят и направят к месту проживания. Те, кому негде остановиться, могут зарегистрироваться заранее на сайте www.stipruskartu.lt
Департамент миграции также напоминает, что для регистрации взрослые должны прибыть вместе с детьми, если они также являются беженцами вместе с родителями.
- если у вас есть место для проживания (у родственниками, близких, друзей, или граждане Литвы сообщили вам конкретный адрес и возможность проживания) после прибытия в Литву, вы должны прийти в любое отделение Департамента миграции в рабочее время:
- Vilnius, Vytenio g. 18;
- Kaunas, A. Juozapavičiaus pr. 57;
- Klaipėda, Kauno g. 6;
- Šiauliai, Aušros al. 19;
- Panevėžys, K. Binkio g. 14;
- Alytus, Jotvingių g. 8;
- Marijampolė, Kęstučio g. 1;
- Utena, Maironio g. 4;
- Telšiai, Žemaitės g. 34;
- Tauragė; Stoties g. 15;
- Elektrėnai, Draugystės g. 32;
- Visaginas, Veteranų g. 13;
- Šalčininkai, Architekto g. 4.
В этом случае ехать в регистрационный центр в Алитусе не нужно. Регистрация проходит в режиме живой очереди.
ПОЧЕМУ ВАЖНО ЗАРЕГИСТРИРОВАТЬСЯ?
Необходимо зарегистрироваться, чтобы мы могли позаботиться о вас и создать условия для вашего пребывания в Литве на законных основаниях.
В ЦЕНТЕ РЕГИСТРАЦИИ:
- вам будет предоставлена подробная информация о возможностях вашего пребывания в Литве;
- вам будет предоставлено временное жилье в Литве;
- вы получите продовольственные пайки, вам будет оказана базовая медицинская помощь.
УСЛОВИЯ ПРЕБЫВАНИЯ В ЛИТВЕ, после регистрации вы сможете:
- получить временный вид на жительство в Литве (на 1 год);
- национальную визу (на 1 год).
ВИЗА:
Для граждан Украины с биометрическими паспортами распространяется безвизовый режим (от 90 дней до 180 дней).
Адреса церквей Союза Церквей Евангельских Баптистов Литвы: http://baptist.lt/ru/obschiny.html
We are...
An association of autonomous evangelical congregations whose purpose is to live by the gospel of Jesus Christ and help the people in Lithuania to catch a sight of it...
We pursue this together...
By upholding and developing the unity among our congregations;
By helping each other in evangelism, theological education, missions, and social involvement;
By publishing and circulating Christian literature and organising conferences, seminars, public lectures, exhibitions, concerts and other events;
By building church buildings, establishing centres for Christian education, founding organizations for humanitarian aid etc.;
By founding various means of media communication;
By nurturing fellowship with other sisterly churches and Christian organizations in Lithuania and abroad.
The purpose of this website...
Is to introduce Lithuanian people and our friends abroad to our life and work in continuing the ministry started some 2000 years ago by Lord Jesus, as it is written:
When he came to Nazareth, where he had been brought up, he went to the synagogue on the sabbath day, as was his custom. He stood up to read, and the scroll of the prophet Isaiah was given to him. He unrolled the scroll and found the place where it was written: 'The Spirit of the Lord is upon me, because he has anointed me to bring good news to the poor. He has sent me to proclaim release to the captives and recovery of sight to the blind, to let the oppressed go free, 19to proclaim the year of the Lord's favor.' And he rolled up the scroll, gave it back to the attendant, and sat down. The eyes of all in the synagogue were fixed on him. Then he began to say to them, 'Today this scripture has been fulfilled in your hearing.' All spoke well of him and were amazed at the gracious words that came from his mouth. They said, 'Is not this Joseph's son?
(Lk 4:16-22, NRSV)
We hope...
That you will frequent our website, especially when all its pages are functional and we are able to share with you our news, comments, theological reflections and other aspects of our community life...
LEBBS

naujienos

Data: 2019 gegužė 15 d. Tema: NEBIM naujienos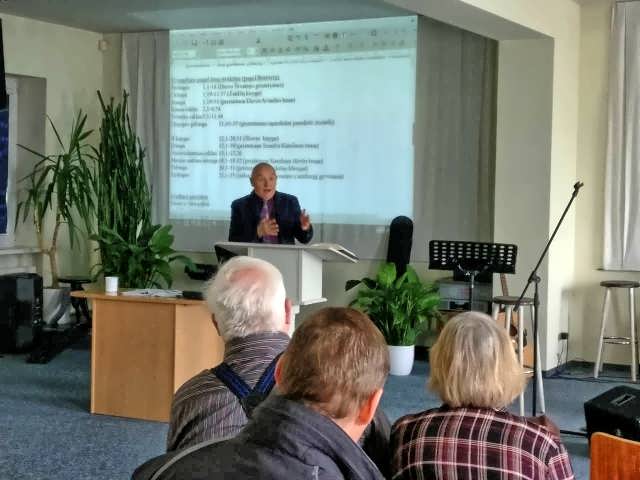 2019 m. gegužės 11 d., Vilniaus Naujojo Testamento baptistų bažnyčioje įvyko NEBIM (Neakivaizdinė Biblijos Mokykla prie LEBBS) seminaras "Skaitome evangeliją pagal Joną" tema. Seminaro lektorius doc.dr. Parušas Paruševas (Bulgarija), kuris mus aplanko jau ne pirmą kartą.

Skaityti >